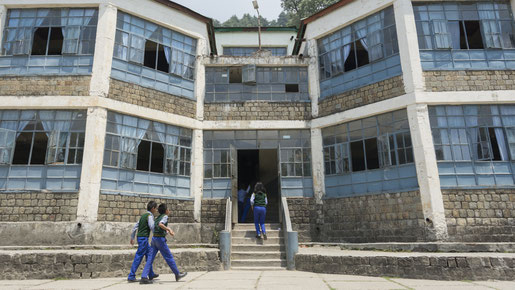 Plastic pollution, by Raksha Subha, TCV student
"In the world of 21 st century, there are a lot of pollutions created by us. Like noise pollution, air pollution, plastic pollution and etc. We humans pollute our  environnement in many ways thats slowly in our future there would be no clean air to breath, no clean water to drink and all of the resources in our environment will slowly extinct. And when that time comes we people would not be able to turn back what we already lost. And one of the harmful pollution we create is « plastic pollution ». As we can see that we use plastic in son many ways. We are like addicted to plastics. Because of the excessive use of plastics in our daily life, we cannot stop using plastics. Plastics are not compostable and the people carelessly throw plastics wherever they want, but some people are concerned about plastic pollution and they prefer the usage of other materials than plastics. It seems that plastics are most convenient containers for storing food items and plastics are also cheap. In many states of India polytene bags are used almost everywhere to carry vegetable, fruits and many things that we buy. Plastics are also widely used in medicinal conditions like the thread to stich our wounds, packing tablets, and many medicinal instrument are made up of plastics. Thus plastic is also essential in our lives. Sadly, these days there are a lot of cases of animal deaths; like cows are dying after consuming the plastics found around us, many fishes are also dying because of the pollution caused by the plastic under the sea. Plastics are formed chemically that they can also have harmful chemical effects. Recently some people are reported to be suffering cancer because of having hot food in plastic utensils? Plastics also cause air pollution which is harmful for humans as well as animals and plants. The innocent animals don't know the harm or effects of plastics on their bodies so that they unknowingly consume those plastics. 
The digestive systems of animals are not able to digest plastics and at last they die. I think that plastics were created because there are many things that can't be made up of other materials because they are either too heavy or too costly. Plastics are easy to carry and are very light compared to other materials. Plastics can be recycled, but we people are too careless. We can also reuse plastics in many ways like : instead of buying a new plastic bottle we can reuse the plastics bottles that we buy to drink juices, we can also reuse the wrappers of toffees to make or design something, we can also reuse the pack of eaten chips store something in that. So lastly, I would like to say that if we want we can easily reduce the pollution, which is harmful. All of us want to live a good life, but for that we can't destroy our environment. I think that if we people want to do something, no matter what we are always able to do so. We only have to set our mind up and think about our future generation, as our ancestors also kept the environment suitable for us to live. We the people of the 21 st century should also think for the peoples and animals who will be suffering if we would not stop being selfish. So I would like to say that lets unite and find more ways to keep our environment clean and green. Also, try to reduce the amount of pollutions w create every day." 
Raksha Subba 
13 Years old 
Others Before Self - Bilingual annual magazine 2018 - Tibetan Children's Village School. Dharamshala cantt-176216 (H.P.) INDIA
Soutenez le Tibetan Children's Village :